Diamonds are joyful, because they are free, as the Chopard's 2010 Happy Diamonds jewelry collection are very attractive and full of charms, all just because there have continuously creation and new vitality were injected constantly.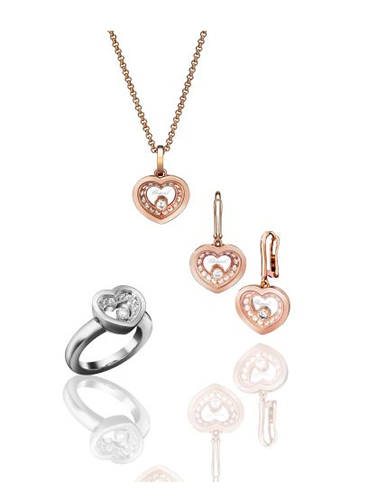 Chopard Happy Diamonds Series Necklace, Earrings and Ring
The brand new Very Chopard series jewelry not only retained its well-known joyful brand but also added heart shape and round themed elements, and created a more exquisite and more sophisticated cone-shaped appearance.
Although from the technical point, the realization of this unique and innovative creative approach needs very complex technology, but it given these jewelries peerless shines, and the same time the movable gemstones were given more wide space, thus make them dancing more freely and more excited.
On the stage full of originalities, as if brilliant gems are start dancing in the rotation in the light, they have never been so free and dazzle. They slide forward, surrounded by mirrors happily, reflected flashing beauty in endless angles in infinite play.
Very Chopard series jewelry are made of platinum or rose gold, including rings, earrings, necklaces and bracelets, you can choose one encrusted with gemstone or made of pure gold.
As upholding the principle of Endless Pursuit of Perfection, Chopard provide two designs of gemstone settings for his customers: One is setting gem on the external frame as a finale; The other is setting gems in the inner part, encircling movable diamonds harmoniously. The two stylings both show the delicacy and elegance of Chopard fully, it's really 'Very Chopard'!
As the latest performance of Happy Diamonds series of jewelry, the Very Chopard series earrings and necklaces used 18k rose gold, the diamonds sheens are designed as to surround the eternal heart shape, and also floating in the 'heart', accompanied by a stunning movable diamond in the center, it's so brilliant and shining.
* Original address of this fashion jewelry post: The Beauty and Charms of Fashion Jewelry