HERMES style is always cool and simple, Hermes Jewelry in 2009 spring and summer illustrated this all the more, let us have a precious watch!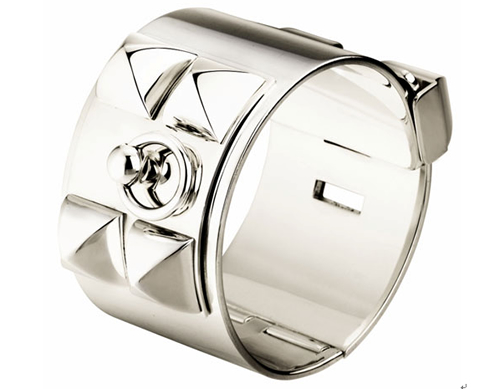 Silver Collier De Chien Bangle
This bangle is brand new performance of the Collier De Chien series jewelry that born in 1927, which is made of sterling silver, and it looked as been made of a large piece of silver. The invisible clasp design make the bangle looked more simple and graceful, and its smooth lines, large size and exquisite style all highlights the delicate and elegant characters of Hermes jewelry.
Silver Atlante Necklace
This piece of high-level dazzling jewelry is purely handmade which includes processes of built, combination, installation and welding. It made up of 345 lantern rings totally, and each lantern ring was arrayed from small to large sizes, and linked each other into a whole, the necklace hasp was made of a spring hook, which inspired from the harness clasp in early days. It is such a smooth lined necklace which attracted people greatly…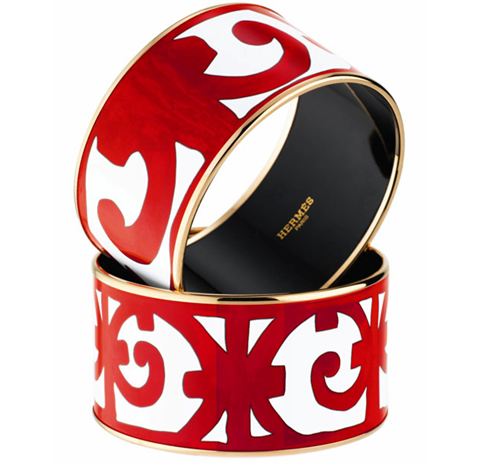 Balcon du Guadalquivir Wide Enamel Bangle
This piece of bangle is inspired from the design of Andalucia Iron balcony. The flashing enamel quality highlights the glaze color more brightly, showing special delicacy and subtlety as watercolors.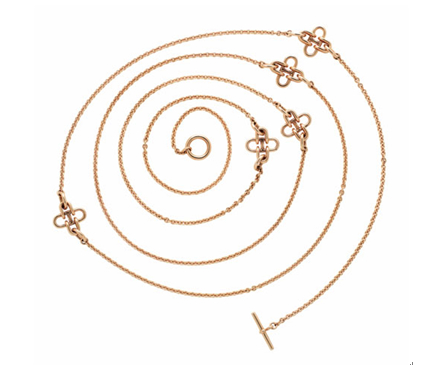 Rose de Mer Gold Long Necklace
This long necklace is fresh and compact, which combined the softness of rose-red gold with the anchor ouch, and the hinge type petal flower decoration perfectly, and the necklace length is long enough to go around the neck for single, double or three times…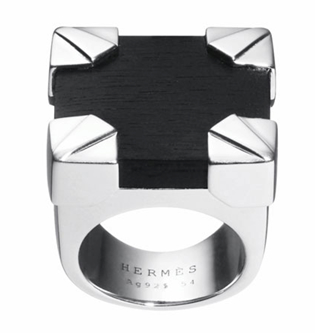 Box 4 Coins Silver and Ebony Wood Ring
Jewelry design can inspired from travel box too. The highlights of Hermes box series jewelry are its four box corners design, which combined these two different colors into one: silver and ebony, silver and agate, silver and ruby as well as silver and malachite. Among this series jewelry with strong color contrasts, there are pendants, bracelets and earrings.
* Original post: HERMES Fine Jewelry in 2009 Spring and Summer