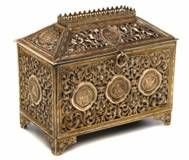 Balgari Silver Casket (Ca in 1905)
Balgari Casket in silver, by Sotirio Bulgari (V46), the founder of brand " Balgari" in 1905.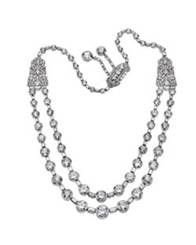 Balgari Necklace in Platinum with Diamonds (created in 1930s)
Designed as a double festoon of circular cut diamonds in collet, spaced by diamond baguettes and graduated in size from the centre, the sides and clasp decorated with similarly set open-work plaques, the back supporting two drops with large circular cut diamonds and baguettes. (Total diamond weight approximately 137 carats.)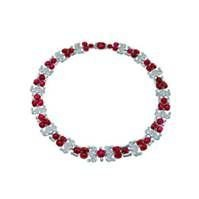 Balgari Rubies and Diamonds Necklace (ca in 1930)
Designed as a flexible chain, set at the centre with a circular cabochon cut ruby, the sides formed of graduated clusters of three rubies and baguette diamonds alternating with diamond-set stylized palmette motifs.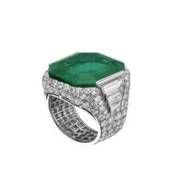 Balgari "Trombino" Ring in Platinum with Emerald and Diamonds (ca in 1932)
Set at the centre with an octagonal step cut emerald on a band pavé set throughout with brilliant cut diamonds,  the shoulders decorated with four graduated baguettes.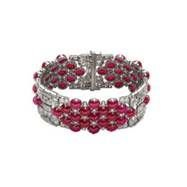 Balgari Bracelet Set with Rubies and Diamonds (ca 1934)
The wide flexible openwork band formed of three latticework motifs set with cabochon rubies and small circular cut diamonds, connect by geometrical set with further circular cut and baguette diamonds.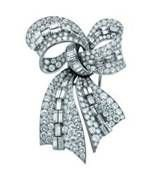 Balgari Bow Brooch in Platinum and Diamonds (ca 1935)
Of ribbon bow design pavé-set with circular cut diamonds with baguette diamond highlights.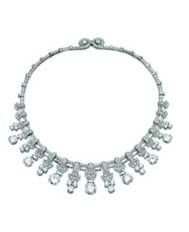 Balgari Necklace/Tiara in Platinum and diamonds (ca 1935)
The front designed as a fringe of seven circular cut diamonds, graduated in size from the centre alternating with diamond set trefoil motifs, the chain set with baguettes and circular cut stones terminating at the clasp in a scroll motif. The necklace may be worn as a tiara when mounted on the appropriate frame.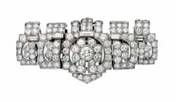 Balgari Art Deco Brooch in Platinum with Diamonds (ca 1935)
(not finished to be continue…)
* Original address of this fashion jewelry post: The Beauty and Charms of Fashion Jewelry