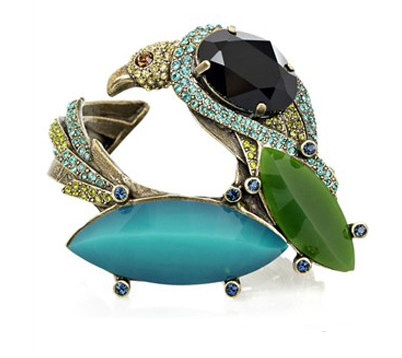 Lanvin Bird-Shaped Bangle
Recently Lanvin jewelry has been taking the existing routine with large pieces of precious stones, but this Lanvin bangle is more prominent with its exotic feelings, its full and gorgeous blue-green color will let you think of the tropical jungle, while the rough copper metal frame of the jewelry is seemed to be expressions of national handicrafts style.
As the size and colors of bangle has caught your eyes, the details are more worthy of appreciation, and the fine enchased Swarovski crystals are flicker and flashing, color changes in harmony, which are all together enriched the overall look and quality of the jewelry.
The whole bird-shaped decoration is situated at the front of bangle, instead of get through the interspace at the middle of the wrist, so you should do worry about the comfort problems.
 * Original address of this fashion jewelry post: The Beauty and Charms of Fashion Jewelry