Luxury fashion brand Louis Vuitton wrist watch series both have interesting fashion outlines and high collective value, with beautiful region arcs, luxurious sparkling body, top class artisans, fine design style, as well as its somewhat classic style, all performed the of the sumptuosity of Louis Vuitton, this old brand fully and perfectly…now I want to show you the new series wrist watches named LV Tambour launched by LV in 2009 spring and summer.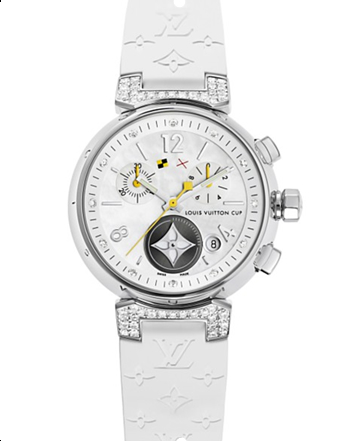 Tambour Lovely Cup Diamond Studded Wrist Watch
LV Tambour Lovely Cup diamond-studded watch feature with both sea style and somewhat elegant sports air, it is stopwatch designed for contemporary women.
Swiss-made, 5-year warranty, diameter of the watch case is 34 millimeters, stainless steel watch case, white painted dial, 54 diamonds, monogram embossed pattern pressed on the natural rubber watchband, quartz movement, chronograph function: computing time in minutes, seconds and 1 / 10 seconds, the waterproof degree as deep as 100 meters, luminous pointer and scale, the date window of magnifying mirror is located at the 4.30 position, anti-reflective sapphire glass watch mirror.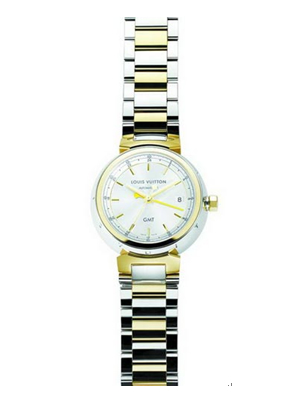 18K GOLD GMT Wrist Watch (Sale for 95000 Yuan)
This is the first launch of Louis Vuitton for 18K gold-steel bimetal Tambour watch, its silver dial matched with gold just like sun-rays, soft beautiful luster coexist with the metal quality.
This series watch was debut at the re-opened time of the LV franchised store at Marco East Hotel, and there are three models of this series wrist watch: GMT, chronograph watches and ladies watches, all equipped with distinguished automatic movements.
(not finished to be continue…)
* Original post: Louis Vuitton 2009 New Jewelry Watch — Spring and Summer Diamond-Studded Wrist Watches(up)