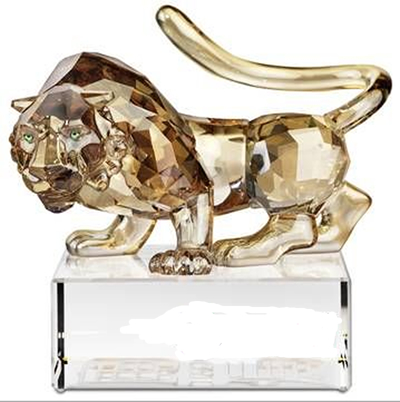 Swarovski Chinese Zodiac Series Product (Limited Edition) – Tiger
After the launch of the first three remarkable "Chinese Zodiac" series products, Swarovski created a unique & picturesque product for 2010, the year of Tiger. This eye-catching tiger ornament is made of golden colored crystal, which is a limited edition which will be promoted limited to China, Taiwan, Hong Kong and Macao areas only, and the sale term is also be limited to the October this year until next Kanoe tora year.
The limited edition – Swarovski crystal "tiger" figure is eye-catching, unique and lively, which is absolutely a poetic, precise, and fantastic creation.
The limited edition product of Swarovski with the "Tiger", "Horse" and "Dog" tabletop ornament which was debut on the first launch, are all belong to the Swarovski "Chinese Zodiac" series product. The rest of the crystal zodiac animals will be launched in succession in the next few years, and will come onto the market in triplet, and each group product shall have similar characteristics and relative high-degree consistency, and to show the intoxicating charms of the full set of Swarovski "Chinese Zodiac" series product perfectly.
* Original address of this fashion jewelry post: The Beauty and Charms of Fashion Jewelry