SWAROVSKI, as the world's leading crystal manufacturer and fashion brand, on June 29, the Swarovski company in Tokyo, Japan exhibited a Hello Kitty decoration mosaic with 19,636 crystal beads. Swarovski only made 88 pieces of the figurine, 25 of which will be out in Japan. Each Swarovski-studded Hello Kitty figurine is priced at $14,800.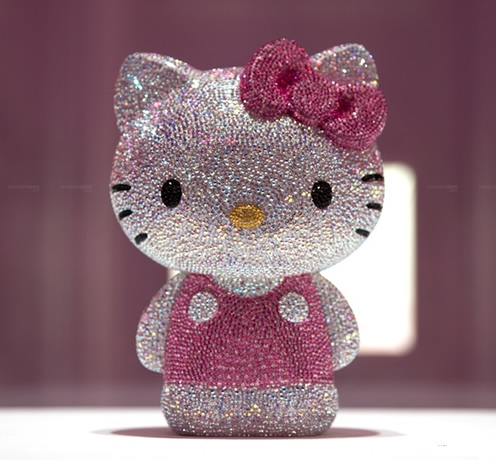 Hello Kitty, Japan's famediconic cat, has been reborn with Swarovski crystals. Collaboration between the Austrian jewelry maker and Japan's Sanrio Corporation aims to help bring in money for survivors of the twin disasters in March.
Hello Kitty has a new, sparkling look, thanks to Swarovski.
A showroom on Tokyo's Omotesando fashion street displays accessories from tiny earrings to melon-size figurines.
This 20-centimeter-tall Hello Kitty has a price tag of more than 14-thousand US dollars. The limited edition is only available for 88 fans around the world.
 Swarovski says it wants to bring some cheer to Japanese suffering from the twin natural disasters of March.
Robert Buchbauer, CEO of Swarovski, said, "She's just a nice, cute, adorable character. She's just a symbol of happiness, and I think it's very important these days to transmit some positive messages to the people, and I think Hello Kitty is perfect in order to do so."
Buchbauer stressed the need for emotional, as well as concrete support.
Buchbauer said, "Japan has a long way to fully recover from all the things that have happened in the past few months. I think at the same time it is important to think positively, to think forward, to think ahead, and to create a positive mood again in order to optimistically look into the future."
Swarovski says they will auction off nine Hello Kitty figures, designed by Japanese celebrities to be exhibited at the launching event.
The proceeds will go to the Japanese Red Cross Society to help restoration efforts in northeastern Japan.
Now the very famous Japanese tourist spot House of Hello Kitty houses five fan booths for Swaroski and Hello Kitty. One item included in the collection is a limited edition Hello Kitty figurine set in 19,636 pieces of crystals each applied by hand.
* Original address of this fashion jewelry post: The Beauty and Charms of Fashion Jewelry