As we all know, a sparkling diamond wedding ring always confirms sweet love, as well it is also a symbol of eternal love and marriage. At the same time, choose and buy diamond wedding rings can also target for collection investment. Now in China, diamond rings collection in the market has a highly rising prospects, but so what are you still waiting for?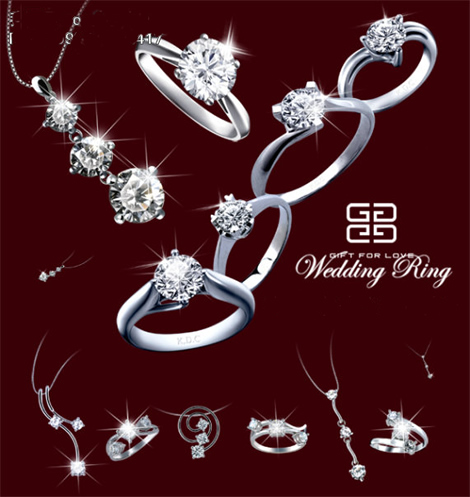 Diamonds sparkle in a display window. This gem is in big demand in China.
The country's growing purchasing power has boosted the diamond market, already the second-largest in the world after surpassing Japan last year.
Lovers are feeding the frenzy for this most romantic of gemstones. Shao Rongwen is shopping for a diamond with her fiancé Zhu Zhenhai. She says couples are likely to look for diamonds as a symbol of everlasting love. When she grows old, she hopes to remember her younger days whenever she looks at her gem.
"I think that as long as couples want to get married, they want to own a diamond to prove that their love will last forever. If I grow very old, when I look at the diamond, it will remind me of the good old times. Diamonds never change."
Around 14 million couples get married every year in the country, according to the Civil Administration Bureau of China. And the precious gem industry estimates that 30 percent of those about to walk down the aisle purchase diamonds.
But the approach of the Chinese buyers is a bit different with many going online for their first contact with the glitzy world of diamonds.
Zhu says he feels comfortable buying diamonds online because he trusts the third parties that provide payment support.
"Nowadays online shopping is the trend, and more people have adapted themselves to it. Now, with the third-party payment support, I think that shopping online has become quite reliable, even for such things as diamonds."
The total value of all diamond imports and exports in the country reached 2.8 billion U.S. dollars in 2010. But in the first half of 2011, the value of diamond exchanges surpassed 1.8 billion dollars, with estimates that the final year's figure will top 3.8 billion.
On the retail market, total jewelry sales in 2010 reached more than 38 billion dollars, and one out of five of precious gems sold was believed to be a diamond.
At a time when investors are trying to avoid the eroding effects of inflation on cash savings, China's nouveau riche are considering investments beyond real estate, gold and company stocks. This is one reason why they have turned to jewelry and diamonds.
Pan Bing, Manager of the diamond processing center in Shanghai for Lao Fengxiang, a local brand with a 168-year history in the jewelry industry, says many wealthy Chinese are attracted to investing in large, quality diamonds because they are easy to carry and store.
"After they have enough money, they start to think about investments. Diamonds are very easy to carry, to stock, and they hold their value well. So, many rich people will consider buying high quality diamonds, and big diamonds."
International jewelers such as De Beers, Cartier, Bulgari or Tiffany, have all set up flagship stores in mega-cities such as Beijing and Shanghai.
And even if the Chinese market can be hard as a diamond to break, they have plans to increase their presence in smaller cities too.
* Original address of this fashion jewelry post: The Beauty and Charms of Fashion Jewelry