Aside from hair decorations for women, sometimes hair ornaments are equated to a type of fittings art, and will be taken by those fashion designers to express something. In recent years, Japanese hair designer Katsuyo Kamo, who was welcomed deeply in fashion circle, contributed his skills on two black-white fashion shows in this year's autumn and winter respectively. One was the Junya Watanabe show, on the dark T stage, accompanied with the background music of Puccini Tosca opera, models entered the venue in file, wearing falling wigs and feather hair ornaments, and there is show a type of beauty of evil;
While on the other release show of Chanel for 2009 autumn and winter, based on the center of "Wearable Japanese-style origami Art" of designer Karl Lagerfeld, those ordinary white papers were be carved into camellias, anemone, butterflies, feathers, snails, leaves and deformed antennae of branches, as if they are distorted crowns of the Pope, and performed an attitude of white fantasy.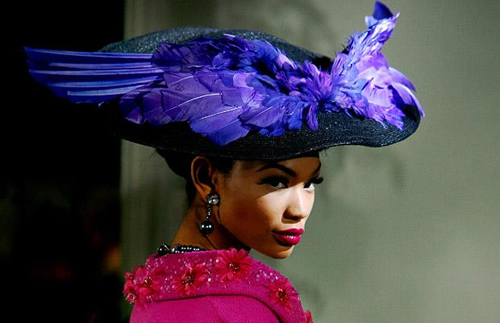 Swedish designer Fifth Avenue Shoe Repair, who Loves feathers and headdress made of deformed animals and plants too – and famous with his unrestrained imagination in the Nordic fashion industry, on the fashion show for 2010 spring and summer, a lively big bird were be placed on the head of models, together with abstract complex construction beauty in fashion design, and a pomp of a condor circling about above modern building was been shown in front of people…
Women who care for extremely simple and practical style can also get a head jewelry in this season, for example, wear a Fendi black headband matched with a long overcoat, which is chic and decency. However, this requires you has a three-dimensional facial features, and it is also quite difficult to perform it good.
But in rainy days, maybe some people will like Rusli Tjohnardi's umbrella design headgear, it not only can shelter you from wind and rain, but also letting you looked like a shiny transparent jellyfish.
* Original address of this fashion jewelry post: The Beauty and Charms of Fashion Jewelry