Jewelry and all related fashion accessories, are needed for each fashion lady, a piece of jewelry suited to you can not only make you looks more grand, but also could help to show your elegant temperament, each piece of jewelry all has its unique character, and the same jewelry matched with different apparel could throw off different flavors, here, we shall introduce you several pieces of jewelry that universal for all styles.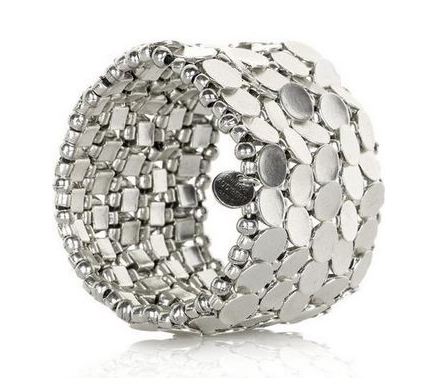 Philippe Audibert Silvery Bangle
Philippe Audibert designer choose silvery material, and created out this 2009 spring and summer silvery bangle, the bangle attached with a gold disk printed with designer prints, as well as inlayed with a elastic for easy wearing. The wide silvery bangle is a perfect jewelry for you in this spring and summer, is you wear a bangle on each hand of you, you will looked more noble, fashion and chic…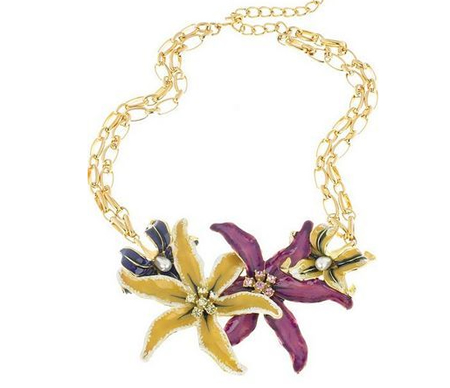 Kenneth Jay Lane Enamel Flower Necklace
Kenneth Jay Lane 2009 Spring and Summer Enamel Flower Necklace, the necklace chain adopted with double gild chain design, together with big color enamel flowers, the flower designs are various, and small gems were enchased on the stamen, which make the flower more lively and vivid, if women want to show your charming character to someone, this piece of necklace is a wonderful selection…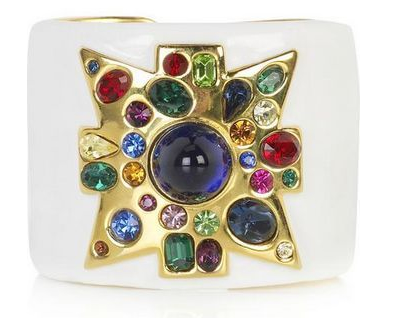 Kenneth Jay Lane Color Gemstone Bangle
Kenneth Jay Lane 2009 spring and summer color gemstone bangle, with white enamel material, together with color glass crystal enchased on the center part, looked from the profile, the blue glass crystal is especially outstanding which make the bangle more solid. The most outstanding features of the bangle is the hinge attached to the bangle, which make the bangle made of so hard material could be wear on and off easily, and this piece of bangle is also suitable for wearing on some leisure time….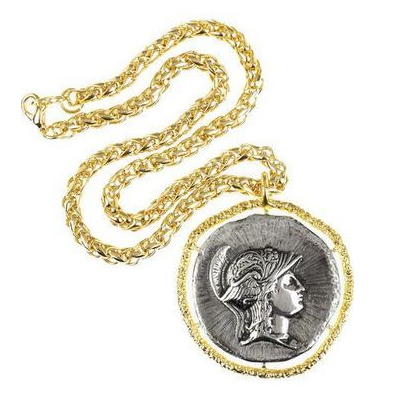 Kenneth Jay Lane Big Coin Pendant Necklace
Kenneth Jay Lane 2009 spring and summer big coin pendant necklace, the necklace chain is made of rhodium metal, together with gild gold, and the necklace pendant used a silver coin as its main part, and use a lobster clasp to fix with the chain and pendant. An roman solider portrait pattern is the highlight of the pendant, and this piece of necklace is suitable for wearing on leisure occasions in this spring and summer…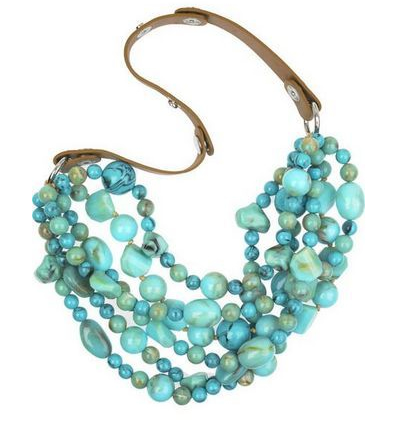 By Malene Birger Turquoise Necklace
It seemed that Turquoise has become a must have for the jewelry design in this spring and summer, By Malene Birger 2009 spring and summer women small beaded necklace choose blue-green turquoise and brown leather, this piece of necklace is made of several bunches of beaded necklaces, and looked grand and elegant, the part for wearing on the necklace was made of brown leather, which added some neutral flavors to this necklace occasionally, if you wearing it to a black blouse, which could not only show the shiny part of the necklace, but also reveal some cool feelings of you…  
* Original address of this fashion jewelry post: The Beauty and Charms of Fashion Jewelry