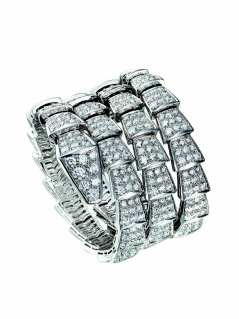 BVLGARI Snake figure design diamond bracelet, 18K platinum inlaid with close mosaic diamonds of 39 karats, price for 4.98 million Yuan.
As the summer is approaching, the temperature rising a lot, it seems that the jewelry to release their ferity, not only shaped in eye-catching deep colors, but also shaped in dangerous reptiles as well as romantic flowers & plants and gentle insects…, which reveals a type of mysterious and beautiful elegant style….
As the most representative Boucheron jewelry, classic Trouble series snake figure design jewelry launched a new series of jewelry featured with mosaic black jades and purple jades, continued its highlight twisted snake design, and adopted bold, creative and mysterious charms quality that stand for female, with more flexible measurement and matched more to clothing, some of which only priced for about 100,000 Yuan.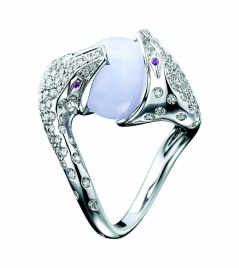 BOUCHERON Trouble Jade snake series rings, design with two snakes bitten at a piece of 14.90 karats purple jade, safe for 355,000 Yuan.
As though the snake figure is rather than cuteness, however, the brand public relation department of Boucheron said that there are many Taiwanese favorite with snake design jewelry, even they are inclined to collect more ….
There are two patterns of Boucheron new series jewelry, one is jet matched with 18K gold, to show its noble and elegant temperaments, some are adorned with diamonds, even show more luxurious; the other is purple jade matched with 18K platinum, adorned with diamonds or pink corundums to show gentle & elegant styles.
BVLGARI (Bulgari) 18K gold diamond snake which priced for 4.98 million Yuan, recently appeared in top grade jewelry exhibition rarely, the design originated from the gold snake wristwatch launched in late 1940s, and combined with the snake shaped idea and Tubogus circle shaped idea, besetted with 39 karats diamonds, with outstanding flexible and soft quality, and fit to wear on the wrist comfortable…
* Original jewelry post: Summer Jewelry, Snake Design Charms