Fall 2011 Jewelry Trends! We have compiled all of the fabulous jewelry trends on the runway for your viewing pleasure…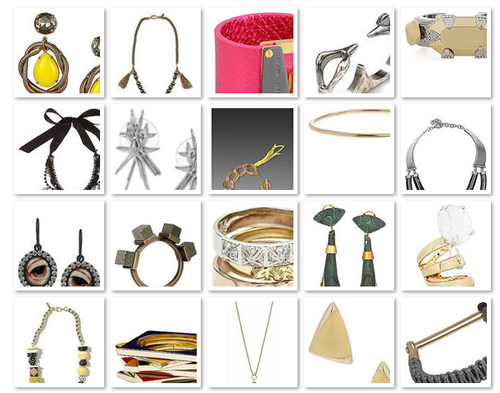 Before you click through to see and shop our editors' picks, keep these tips in mind:
Tip 1: Bigger is better
Bigger is better and actually lets you get away with less. Wearing one giant cuff bracelet or sticking to just a statement necklace packs a punch.
   
Tip 2: Don't be afraid to mix your metals.
There's no law that says you have to wear gold with gold or silver with silver. A pewter cuff thrown into the mix with thin gold bangles looks fresh and modern.
   
Tip 3: Layer your necklaces
You're already layering your clothes, so why not layer your necklaces? Double up on a long chain, or pile on multiple chest-grazing pieces to create your own cool, unique look.
Thanks in part to the stunning Fall collections from Lulu Frost, Eddie Borgo, Kelly Wearstler, and more, we're feeling charmed and dangerous. The revival of sculptural glamour and natural materials has us smitten, and seeing old favorites like ribbon necklaces and two-finger rings is beyond exciting (personally, I'm still waiting on slap bracelets to make a comeback).
There are so many new pretty pieces out there that it may actually make your head spin — which is why we've selected 20 of the best baubles to bring your Fall outfits into glam territory.
* Original address of this fashion jewelry post: The Beauty and Charms of Fashion Jewelry